Alternative Christmas Market
November 16, 2022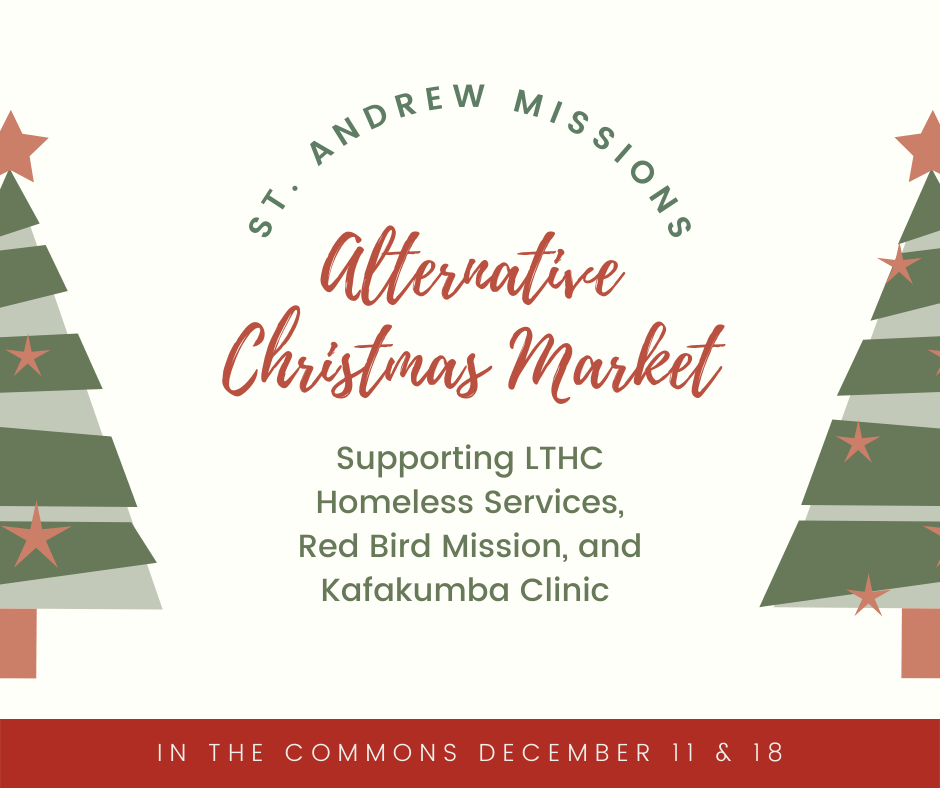 The Alternative Christmas Market is a gift-giving alternative provided by the Missions Committee at St. Andrew, perfect for that hard to buy for person on your list who has everything they need. You can choose to donate to a local mission (LTHC Homeless Services), a domestic mission (Red Bird Mission in Appalachia), or an international mission (Kafakumba Clinic in Zambia) and will receive a card to give the recipient with information about the mission. You can make your donation in-person or give online. To give online, go to our giving page and choose "other" then specify Alternative Christmas Market and which mission/s you would like to support.
About the missions:
LTCH Homeless Services assists Tippecanoe County residents and veterans from surrounding counties experiencing homelessness. Services include intake and continued counseling, meals, laundry facilities, and showers in the day shelter plus medical and other overnight stays while helping guests find employment and housing as well as maintaining supportive housing for adults and families.
Red Bird Mission Red Bird Mission is the largest comprehensive mission program in the world sponsored by the United Methodist Church. It is located in the rural mountains of southeast Kentucky, and celebrated 100 years of service in 2021. Red Bird's ministries include pre-K through 12th grade Red Bird Christian School, Economic Opportunity, Grow Appalachia, Home Repair Workcamp, Community Outreach, Senior Center, and Health and Dental Clinics.

St. Andrew UMC has supported Red Bird with financial gifts through the church mission committee, as well as donations made by individual church members. Each summer the mission committee sends a donation to support the Red Bird Christian School or the Community Outreach ministries. The respective directors of both ministries are very grateful and thankful. In 2022, individual church members donated money that completely covered the cost of renovating the kitchen of the Volunteer Quarters building on campus. Volunteers from St. Andrew often stay there while serving at Red Bird.

Red Bird Mission, like many organizations, was severely impacted by the pandemic, and continues to have serious financial difficulties. The Mission serves the residents of the surrounding communities, who reside in some of the most economically depressed areas of Kentucky and Appalachia. The need by the Mission for financial support is real, and it is critical. Financial support and unselfish giving by individuals, churches, and other support organizations are the only things that allow Red Bird Mission to continue to meet the needs of the local people.

Please consider giving what you can through St. Andrew's Alternative Christmas to support the important and critical work of Red Bird Mission.
Kafakumba Clinic You will share in the healing ministry of Christ through your donation which provides much-needed healthcare for those living on the world's margin. Kafakumba Clinic serves people on the Congo-Zambia border as an extension of ministries at the Methodist Kafakumba Training Center. It provides primary and family care, labor and delivery, emergency services, and short-term hospitalization. The Clinic owns the only ambulance in the area and provides lab and other outpatient services. Its administrator, Naomi Kilembo, earned her Master's degree in Public Health from Purdue University in 2020 and her Bachelor's degree from Africa University in Zimbabwe. During her time at Purdue she was active at St. Andrew United Methodist Church.