Congregational Letter from Pastor Brian
September 14, 2022 | Brian Cook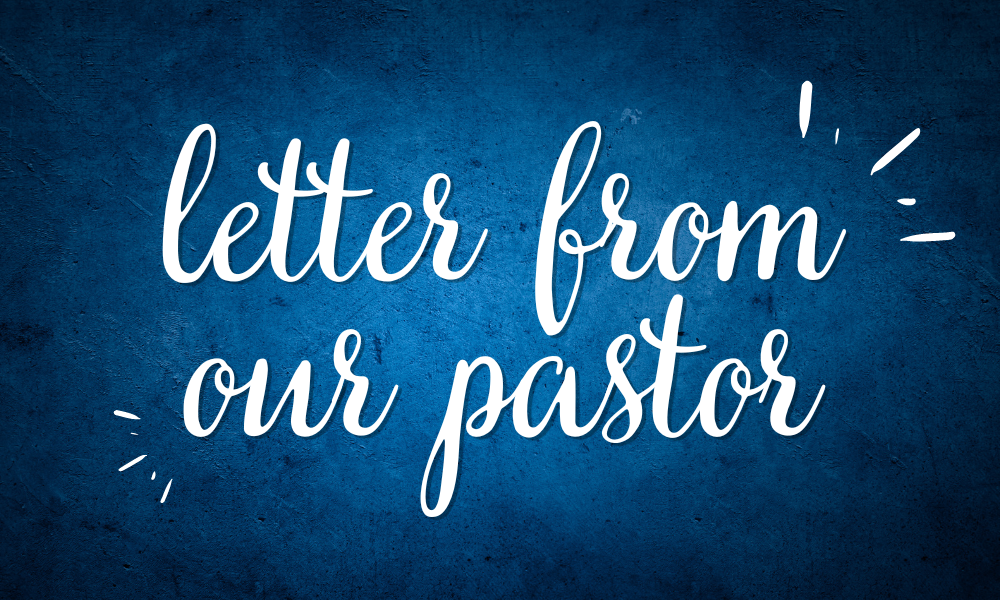 Dear Friends of St. Andrew United Methodist Church,
It is my great joy to bring you greetings in my first congregational letter to the faith community of St. Andrew. It is amazing how quickly two months have gone by! My family is enjoying our orientation to the Greater Lafayette Area. One of the wonderful things you shared with us were the gift cards we received to many restaurants, stores, etc. upon our arrival. We are discovering food experiences that are quickly becoming some of our new favorites.
One question that I ask often in meetings and ministry gatherings is, "Where are you seeing the hand of God at work in your life and the life of the church?" Below are some of the places I am seeing God stir in the life of St. Andrew UMC.
It has been amazing getting to know you in our Meet and Greet gatherings. I have heard so many great stories of faith and connection. You inspire me with your passion for the church and the community God has called us to serve. I see God in the wonderful people of St. Andrew. I am honored to be the next clergy member to pick up the pastoral mantle here.
I also see God in the amazing staff of St. Andrew. God has truly blessed this faith community with passionate and gifted ministry leaders. Along with the passionate and gifted staff are the committed and caring volunteers who give of their time and resources to this wonderful church. I see God moving in the staff and priesthood of all believers.
I am only beginning to wade into the ministry waters of St. Andrew; however, I already see God stirring in the ministries of this wonderful church. I am excited to tell everyone I know that this church has planted a new online church during the pandemic. This is a tremendous accomplishment. If you have not yet become comfortable returning to in-person worship, I invite you to join our Sunday evening online campus called The Intersection. You can find details on the church website or social media outlets.
I am seeing God stir in the areas of children and student ministries. New leadership is stepping up creating a new ministry for our kids and youth. The programming for children and youth has opened again after a long lay-off due to the pandemic. Please consider reconnecting your kids and youth to those respective ministries. If you have questions about any of these ministries, or if you have thoughts on how we can support the spiritual needs of your children and youth, please contact the Directors of Children's Ministries and Student & Young Adult Ministries.
Our prayer ministries, faith formation and discipleship, music ministries, and worship support teams are all in full swing as we return from the limits of the pandemic. I want to encourage and invite you to take advantage of the ministry opportunities that are restarting at St. Andrew. It has been challenging for all of us to be away during the pandemic. However, now we are back, and the doors are open once again. If you have not had the opportunity to reconnect, please consider joining us again. If you're concerned that it might feel strange to return after such a long time away, please don't let that stop you. You are not alone and you will be warmly welcomed back.
To keep informed of what is happening at St. Andrew, please make sure you are subscribed through our website to our weekly newsletter, Staying Connected. It is sent via email every Friday morning. In addition, we also have a Family Ministries Newsletter that families with school-age children will find informative. As always, you can check out our website for the most up-to-date information.
If we have not had the chance to meet yet, please consider joining me for worship and see how God is moving among the people of St. Andrew. I want you to be a part of the excitement!
During the past couple of pandemic years, if you have found that being away from our faith community has led you to join alternative worship experiences in other spaces or churches, that's okay. We honor your choices and want to bless your journey. However, it would be helpful to update our database to reflect that so we don't continue to send you information. Please kindly send an email to Laurie Klenosky letting us know and we'll make those updates.
Finally, I'd love to know how you are doing, get to meet you, or have a conversation over the phone or in person. Please feel free to reach out at any time.
Celebrating What God Is Doing,
Pastor Brian Cook, Lead Pastor