New Year, New Season, New Sunday Morning Schedule
December 13, 2022 | Brian Cook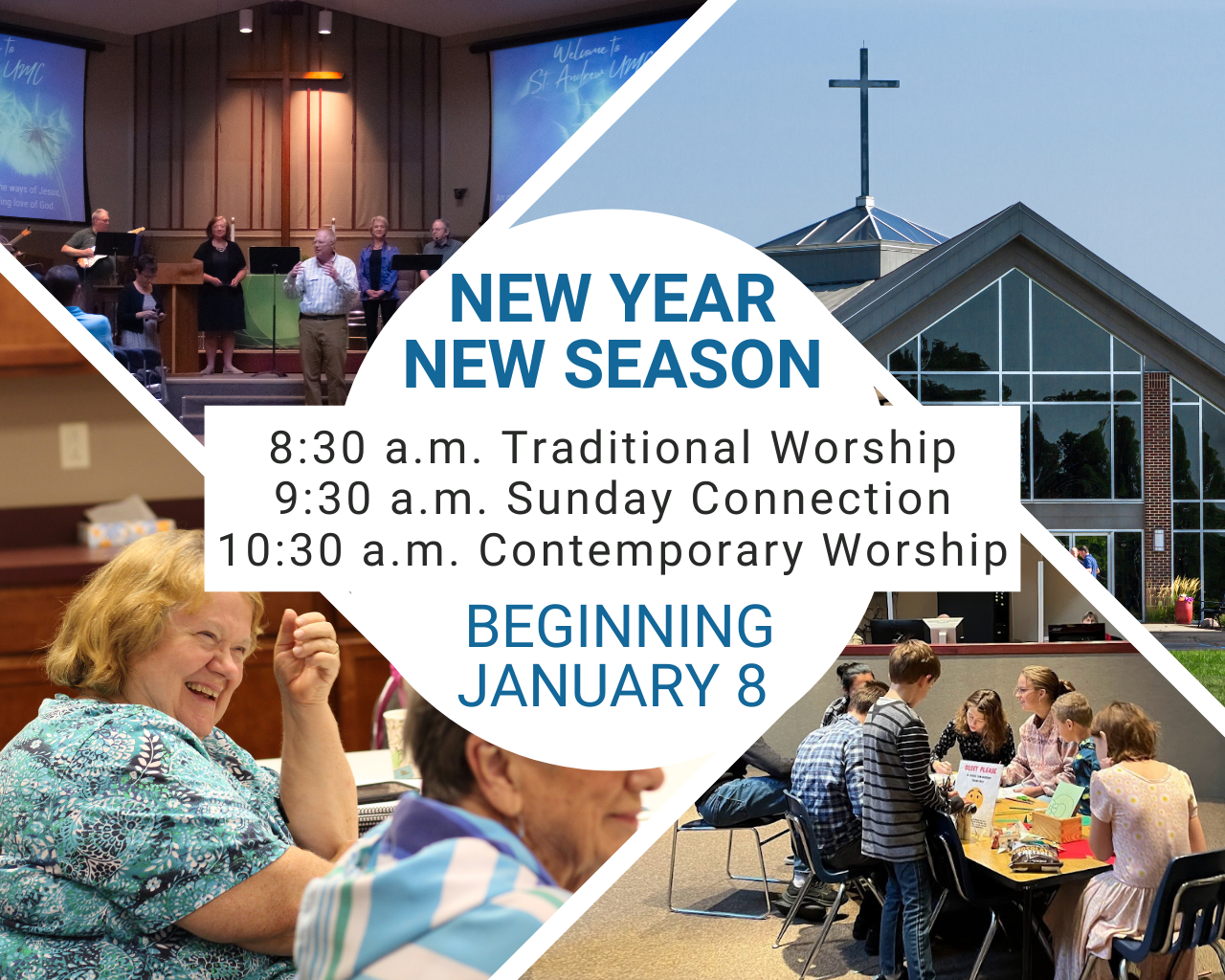 Merry Christmas friends of St. Andrew! I hope you and your family are enjoying the beauty of this Advent Season.

I am writing to share an announcement related to our Worship Survey that the Operational Management Team, Vision Leadership Team, and staff have been processing since October 30, 2022.

Beginning January 8, 2023, we will shift the Sunday schedule to the following times:

Traditional Worship – 8:30 am
Faith Formation/Connection Groups – 9:30 am
Contemporary Worship – 10:30 am
Intersection Online Worship – 7:00 pm

This Sunday shift in our schedule feels appropriate as we start a New Year and begin a New Season!

Why This Schedule? – The New Year New Season Sunday schedule will take time for all of us to adjust. I anticipate there will be some people disappointed that our Sunday schedule did not shift in the other direction. I am guessing I will have some ask me why we did not go the other direction with our times and focus on the 9:00 am, 10:00 am, and 11:00 am schedule. Let me share a couple of reasons besides the church surveys that influenced this decision.

Leading church growth and development organizations have done extensive work in surveying and analyzing current cultural trends. Some reports are indicating a cultural shift that is taking place regarding worship schedules. The 11:00 am sacred time slot for worship is no longer the sacred time. Later time slots for worship are beginning to shift. One report described a shift for Baby Boomers and Empty Nesters who are beginning to desire earlier worship experiences on Sunday morning rather than later. Young families are desiring Sunday worship opportunities that finish before noon. Finishing before noon allows young families to connect with their other weekend commitments. While some of our personal desires may be to worship later, the community and world we are trying to connect with are showing other desires for worship schedules.

Hospitality, Connection, and Growth – The new Sunday schedule will give us the opportunity to be more intentional in connecting with guests, friends, and members. Many people have expressed a deep desire for more fellowship and connection time in our Sunday morning schedule. In fact, in our discussions on grief and the worship series we shared in the fall, the value placed on community and connection with one another was an important conversation point. The new Sunday schedule will allow us a full hour in the middle of our morning worship schedule to connect with each other in refreshments, coffee, conversation, spiritual formation, classes, and prayer. We will be working to create space around tables for conversation, coffee, and refreshments. We will work to develop classes for spiritual formation and theological/social conversations. We will also develop a time of prayer. A New Year New Season will allow us to accomplish our desire of creating a space of hospitality, connection, and growth.
Let Us Not Miss…The Table! There is a beautiful opportunity in the new Sunday morning schedule. While I know many will spend time focusing on the worship times of 8:30 am and 10:30 am, I am hopeful we do not miss the importance of 9:30 am and 11:30 am. The 8:30 am, 10:30 am, and 7:00 pm times are crucial
worship times connecting us with God. However, the 9:30 am and 11:30 am times are just as crucial in
connecting us with one another. I shared in the first couple of months of my arrival to St. Andrew that one of the greatest ministry tools that exist for the church is the table. It is at the table where community is built. It is at the table where relationships and connections are developed. This new schedule will help us utilize the 9:30 am and 11:30 am times as intentional space for gathering around the table with one another and our neighbors in the community.

Our staff, our volunteers, and the congregation of St. Andrew Church are ready for a Sunday schedule shift to accommodate an intentional time of faith formation and community connection. Beginning Sunday, January 8, 2023, we will start the New Year with a New Season of Sunday morning activities. I want to thank you for your help in this conversation and discernment. I am excited to see how God moves among us as we start this New Year New Season together!

Merry Christmas!

Pastor Brian
Lead Pastor