Susan Angeline Collins:  With a Hallelujah Heart By Janis Bennington Van Buren
November 19, 2021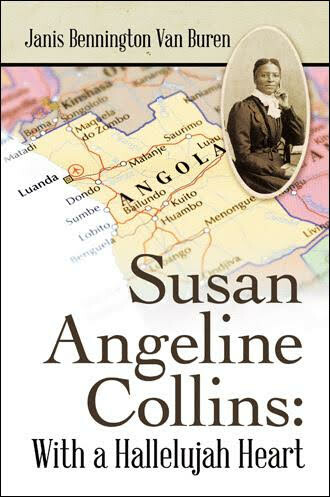 Delve into the life of Methodist Episcopal (ME) missionary Susan Angeline Collins while she confronted hardships and life-threatening challenges in the unpredictable frontiers of the Belgian Congo and Angola from 1887-1920. Born in Illinois in 1851 to parents recently freed from their indenture, Susan was the first African American to attend Methodist-supported Upper Iowa University purportedly earning a Normal Training Degree. Because teaching positions weren't available to black women in Iowa, she moved to the Dakota Territory frontier and started her own laundry business. Mentored by a pastor friend she eventually attended the Chicago Training for City, Home and Foreign Missions. From there William Taylor, the first ME Bishop to Africa recruited her. Traveling by steamer she departed from New York City in April 1887 for the Congo Delta Region. Two years later she was assigned to the northern plateau region of Angola.
Susan's faith, courage, and perseverance were tested as she adjusted to local customs; inadequate food, housing, and medical care; angry natives; mosquito-borne diseases; and a heavy workload as mother and teacher, sometimes to as many as 60 girls ranging in age from babies to teenagers. During her 31 years in Angola Susan, a diminutive bundle of energy, achieved recognition as a stalwart missionary, leader, teacher, nurse, construction manager, and surrogate mother to "her girls."
Susan's life illustrates the long-term impact inclusion can have on society as a whole as well as the important role religion, family, community, and educational opportunities play in daily life. Her life demonstrates what it means to be a leader and what grace, gumption, and grit can accomplish in enhancing the lives of others and creating hope for the downtrodden.
The book sells for $25 and can be paid for either in cash or by check made out to Janis B. Van Buren. Jan will be available at 8:45 a.m. prior to the first service and until 30 minutes after the second service to sign the purchased books.