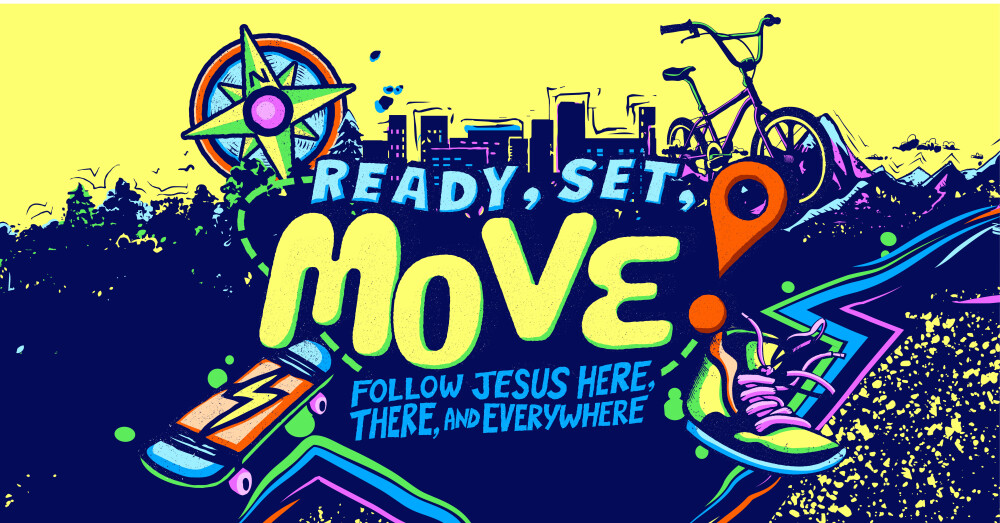 Ready, Set, Move! VBS 2023
This summer is providing us with new opportunities and we look forward to embracing VBS for kids in preschool through fifth grade at St. Andrew! Sunday, June 11 through Wednesday, June 14 from 6:00-8:00 pm, we're getting Ready, getting Set and Moving! Following Jesus Here, There, and Everywhere. When kids begin to see themselves the same way that Jesus sees them, they can start to see how God's Word fits into their everyday lives. VBS is a great chance to have an engaging, fun filled week sharing the love of God in fun new ways.
What to Expect
When you arrive, you and your family are welcome to join us for a dinner starting at 5:15 pm. After eating dinner make sure to check your children in the Commons (lobby) and drop off at the Great Room at 5:50 pm. We will be starting right at 6:00 pm, so please have all kids checked in by then. Kids will be welcomed in and be assigned to their group for the week, where they will get to engage in lots of fun! We will sing some high energy music, experience Bible stories, engage in various crafts and games and even serve towards a mission project (more info coming soon!). We hope that being part of our VBS will create a space for a fun, memorable week with your kids as they learn these foundational Truths to begin understanding the base of who God is. This year we are encouraging families to download the music from iTunes, Youtube Music, or Spotify playlists. You can register children and volunteers using the buttons below on or after April 23!
VBS is free to everyone! If you are part of St. Andrew and would like to, you are welcome to make a donation.
Missions
Learning about and supporting missions during VBS is a St. Andrew tradition. This year we will be preparing care packages for LTHC Homeless Services. These care packages will provide hygiene products, snacks, and bus tokens for persons who are experiencing homelessness. We are asking for donations of the following items so the kids can assemble care packages during VBS. If you are able to donate, we would greatly appreciate your help in gathering these materials. If you have any questions please feel free to contact Danielle.

You can donate items and leave them in the labeled bin in the Commons. If you would like to give financially, use the button below.
Requested Items Financial Support of Missions
Memory Verse
"Let us keep looking to Jesus. He is the one who started this journey of faith. And he is the one who completes the journey of faith."

Hebrews 12:2a NIrV
Follow Jesus Here, There, and Everywhere
Ready, Set, Move VBS will inspire kid to:
DO What God Says

BELIEVE Who God Is

LOVE Who God Loves

GO Where God Leads
Registration opens April 23 @ 8am - Closes on June 4 @ 11:30pm - Register early to assist with planning!