In-Person Worship Guidelines and Information
May 21, 2021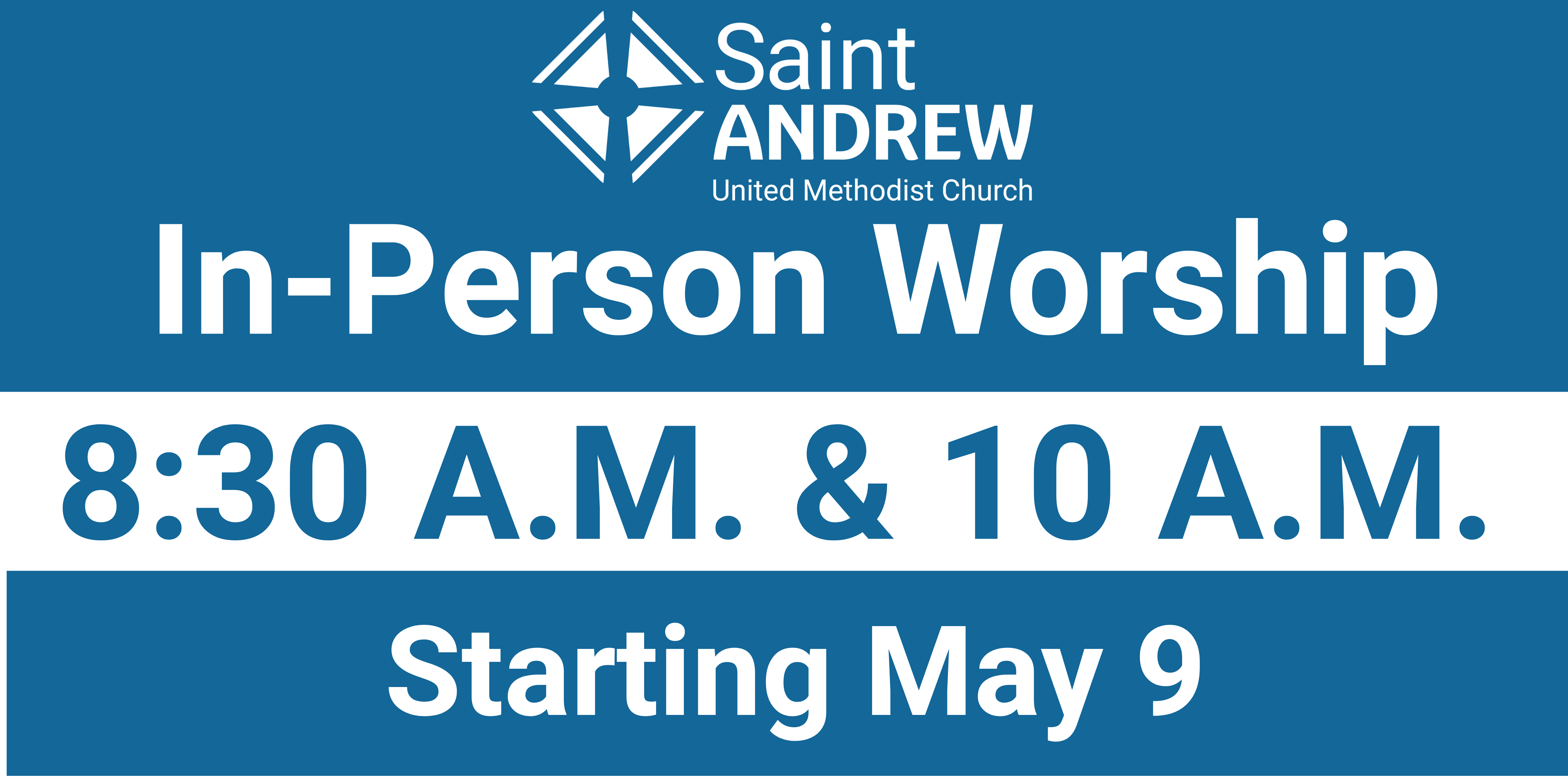 For your safety and the safety of others, MASKS ARE REQUIRED TO ATTEND IN-PERSON SERVICE. Please bring a mask with you for each member of your family above the age of 2. If you forget a mask, we have some at the Welcome Desk.
If you have a fever, symptoms of COVID-19, or known exposure to COVID-19, please help us keep others safe by joining us online.
Doors will open at 8:10 a.m.
No RSVPs are required to attend worship.
Odd rows are used for 8:30 a.m. service and even rows for the 10 a.m. service. The row numbers are on the backs of the chairs.
Please enter St. Andrew through the FRONT doors.
If you are not ready to return quite yet, that's okay. You can continue to worshiping online until you're ready.
After service, we ask that you go directly outside to greet others. Feel free to fellowship outside for as long as you'd like. We hope to have outside coffee service available in the near future.
We will NOT have a printed bulletin, Bibles, hymnals, attendance pads, or other high-touch items. Rather than passing the collection plate, we ask that you drop your offering in a designated box on your way into or out of worship. You can also continue to give online or via automatic withdrawal from your bank.
Congregational singing will be allowed with masks in place.
Communion will be offered on Communion Sundays by individual juice cups and bread. Please obtain a juice cup from the ushers as you enter the service. The bread will be served by the pastors at the time of Communion. Gluten-free wafers are also available from the ushers in lieu of bread if desired.
Nursery will be available for families on Sunday mornings. If you know you will need nursery care, it would be helpful to let Desire' or Janet know ahead of time so that they can plan for nursery workers.
Family tables with art boxes will be available each week.
Kids' and Student Growth Groups are currently on their summer schedule.
Additional information specific to our children and students can be found on the Family Ministries webpage. If you are interested or available to help in the Family Ministries area please let Desire' know!
Thank you for joining us and following these guidelines to help keep everyone healthy!